Marty Allen interviewed by Pepper Jay
Your Host Pepper Jay
Published: Thursday, April 6th, 2017


Actors Reporter host Pepper Jay interviews legendary comedian Marty Allen on the red carpet at the Las Vegas Fame Awards, where Marty was honored with the Lifetime Achievement Comedian Award.
---
---
Marty Allen, Comedian
Marty was born in Pittsburgh, Pennsylvania, the son of Louis and Elsie Allen. His father owned a restaurant-bar. Marty grew up in an atmosphere of love and security. He found he enjoyed making people laugh and soon started dreaming about a career in show business. Marty often entertained his friends at parties. "I would break it up by doing record pantomimes and impressions," he recalled.
He graduated from Alderdice High School during World War 2, so he immediately joined the Air Force. He was stationed in Italy where he attained the rank of sergeant and earned a Soldier's Medal Of Valor. Marty was on guard duty while a plane was being refueled. Suddenly sparks set off a fire in the plane. Marty saw the potential for disaster and jumped into the cab of the fuel truck and drove it away, preventing an explosion. He then raced back to the plane, crawled into the bomb bay and rolled on the flames to extinguish the fire. In addition to the medal, his heroism earned him a full-dress parade.
After the war, Marty attended the University of Southern California where he studied journalism,. "I like to write, and I wanted to be a reporter so I could trench coat," he explained. He was still doing a comedy act in the small clubs, but to supplement his GI bill allotment, he hit on a novel idea. He became the first door-to-door dance salesman. "I got the idea that women would love to learn to dance or just dance for the fun of it during their work day. So, for $10 a half-hour, I'd arrive at their door with a record player and records and we'd dance," he said. "I finally had to give it up. I was visiting 15 clients a day! It was costing me a fortune in new shoes and foot powder."
While working in the nightclubs, Marty polished his many comedy routines and developed a first-rate act. Eventually, the job offers he received became too lucrative for him to remain in college. He began to travel all over the country gaining experience and popularity. He did return to California briefly, to perform as the rear end of a dancing horse. "To this day, I still can't believe I actually had to audition for that job," Marty said.
During the 1950s, Marty worked in many of the top nightclubs in the country as opening act for established stars such as Sarah Vaughan, Eydie Gorme and many others, including the legendary Nat "King" Cole. It was during this time that he became part of the great comedy team of Allen & Rossi. That association produced a string of hit comedy albums, dozens of television appearances, including 40 visits to the Ed Sullivan Show, and the theatrical motion picture "The Last Of The Secret Agents."
Eventually, Marty decided to try his hand at some strait dramatic roles. His debut as a serious actor came on "The Big Valley" TV series. In an episode titled "The Jonah," Marty played a character who was considered a jinx and blamed for a run of bad luck at the ranch. "I met two great ladies doing that show," Marty said, "Linda Evans was very nice to me, and when Barbara Stanwyk complimented me on my acting, I was in heaven." Marty appeared in several other dramatic productions, including the TV movie "Mister Jerico," and "The Ballad of Billie Blue" and a Rod Serling "Night Gallery" segment.
Helping others, who are less fortunate, is part of his personal credo. In 1968 he made a "Hello Dere" tour of military hospitals in the United States, paying for his own transportation and hotel costs. A commendation for his good deeds was placed in the Congressional Record. He repeated the tour yearly through 1972. On each tour, he spent long hours talking to and entertaining the wounded soldiers who had just returned from Vietnam. He is also involved in a number of charitable causes including American Cancer Society, The Heart Fund, March Of Dimes, Fight For Sight, Cerebral Palsy, and is on the board of the Epilepsy Foundation. "I believe that if you have a talent and you use it to become successful, you should give back in return for the good fortune you've had," he said.
Throughout the 1970s and into the'80s, Marty made hundreds of TV appearances. "I went up and down the dial. I did all the talk shows and even became a regular on 'Hollywood Squares." He also appeared on "The Circus Of The Stars," "Password" and many other game shows plus 10 movies for television. " They used to call me 'the darling of daytime television.' I did everything except 'Sermonette.'" It was during this time he met Karon Kate Blackwell. The two began performing together, combining "Katie's" music and Marty's comedy. The scene was almost as wild as Marty Allen's hair.
Forty years ago Monday, Las Vegans Marty Allen and Steve Rossi were at the epicenter of the Beatles' U.S. debut, an earthquake in pop culture. "It was total pandemonium, pure electricity" recalled Allen. Every time Ed Sullivan tried to introduce the British boy band on Feb. 9, 1964, "all those girls went bananas. You knew this was going to sweep the country." At the time, Allen and Rossi, six years into their act, were one of the hottest comedy teams of their era. They were making their 12th appearance on Sullivan's Sunday night TV show, then the entertainment world's greatest launching pad.
After the Beatles' five-song set before a then-record 73 million viewers, Allen and Rossi's dilemma was immediately apparent: How do you avoid bombing when you're following the most explosive act ever? With a screeching teeny-bopper crowd drowning out Sullivan, Allen and Rossi stepped into the swirl. "If we had done our comedy bit, we would have died," Rossi said.
The big-haired Allen, who earlier cracked up John Lennon backstage with, "A lot of people mistake me for you," went with his trademark opener, "Hello dere," and added, "I'm Ringo's mother." Big applause. Then Rossi, an accomplished singer, launched into the Beatles' hit song "I Want to Hold Your Hand" as Allen ran up the aisle, dancing and clapping. "Marty got them hand clapping. We won 'em over," said Rossi, who teamed up with Allen for almost 30 years, including 44 appearances on the Sullivan show. Allen & Rossi have gone separate directions but continue to entertain. Allen, who just turned a very active and spry 88 in March, and his wife, Karon Kate Blackwell, are cruise ship sensations. … Over 600 shows in 10 years!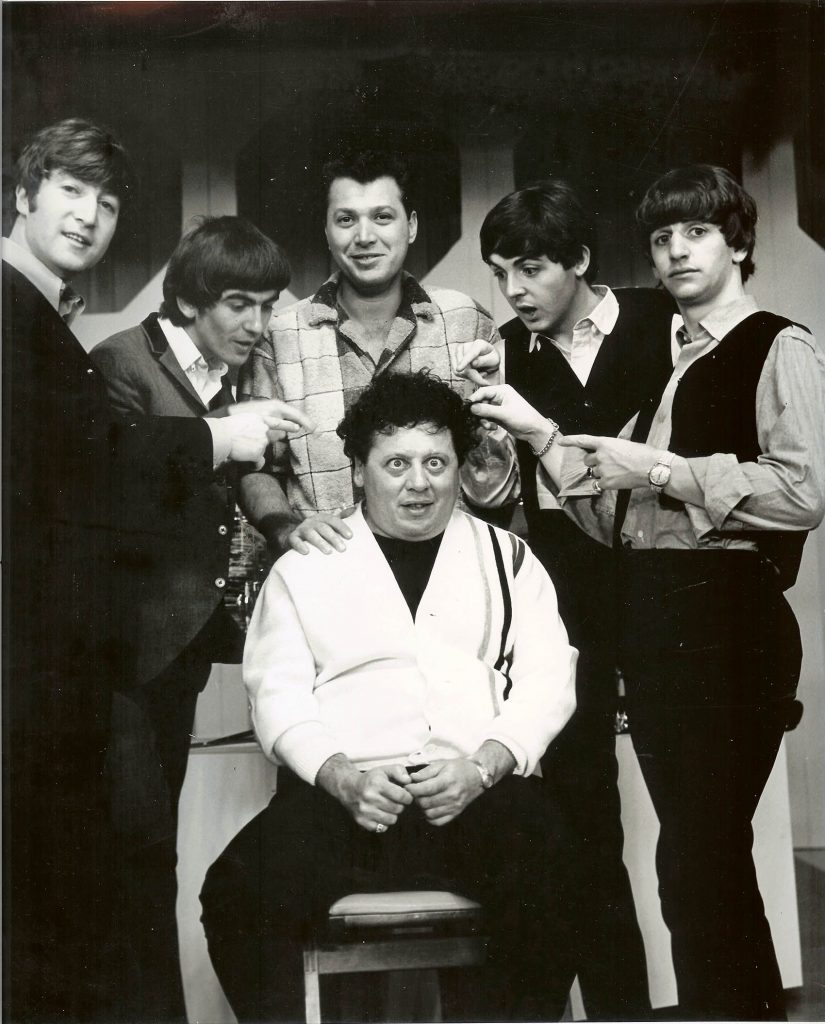 Since 1999, Marty and Karon have revamped the show biz act that made him famous. Marty has added new material to include present day events while Karon sings, plays the piano, and plays the strait person for Marty during their on stage comedy routine.
Marty and Karon still love performing. They travel extensively, routinely performing to sold out shows. After 25 years of marriage, Karon brings a new spark to the show with her Jerry Lee Louis style piano playing, remarkably gorgeous outfits, and lovely presence. Marty still has the wild hair, albeit, looking more like a human troll doll these days… but still bringing down the house with style and flair! Marty and Karon prove during every show that great comedy and entertainment is timeless!
---
---
Special Thank you to:
NEAL PUBLIC RELATIONS & MARKETING Serving Clients Worldwide for 35 years 3042 N. KEYSTONE ST BURBANK CA 91504 PUBLIC RELATION MEDIA CO-ORDINATION TEL – 323-366-2796 E-MAIL: prstarus2000@yahoo.com
and to Al Bowman, Executive Director of the Las Vegas Fame Awards
Learn more about Marty Allen on Wikipedia
Connect with Pepper Jay at PepperJay.com
Calendar Girl and Events is a show on Actors Reporter, a site on the Actors Podcast Network, a Pepper Jay Production.
Tags: actors, Air Force, Al Bowman, Allen, Allen and Rossi, award, Blackwell, Circus of the Stars, comedian, cruise ship, Ed Sullivan, Eydie Gorme, Fame Awards, Hello Dere, hollywood, Karon, Kate, Las Vegas, Last of the Secret Agents, legend, Marty, Marty Allen, Network, Night Gallery, Password, Pepper Jay, Pepper Jay Production, podcast, red carpet, Reporter, Roger Neal, Sarah Vaughan, sensation, Singer, Squares, Steve Rossi, The Beatles, The Big Valley, The Jonah
Leave a Reply
You must be logged in to post a comment.